OFFPRICE Las Vegas 2023-Your Ultimate Guide to Fashion's Most Profitable Show
As the fashion calendar speeds on, there's one event every retailer, buyer, and fashion enthusiast should not miss – the OFFPRICE Show. This upcoming August 5-8, 2023, we're thrilled to return to the stunning Venetian Expo Center in Las Vegas, where all the action unfolds.
What is OFFPRICE?
The OFFPRICE Show is a wholesale marketplace that serves as an unmissable nexus for sourcing quality products, forging essential connections, and penning orders. As retailers continue to grapple with a world that demands more products than ever, OFFPRICE comes as a saving grace. It offers a tangible shopping experience where buyers can touch, feel, and assess the best offerings to stock their inventory.
The rise of quality goods manufacturers and distributors of in-season closeouts and budget items gives retailers a unique chance to find high margins. This will help to maximize open-to-buy dollars and increase their bottom line.
Who's Who at OFFPRICE?
OFFPRICE brings together a diverse group of attendees, each contributing to a dynamic, vibrant, and profitable event.
Major retail buyers from legacy companies
Boutique buyers and small business owners
E-commerce sellers and subscription services
Representatives from amusement parks, travel centers, and gift shops
Farm supply, big box, and sporting goods stores
Assistance leagues, non-profits, and many more
We pride ourselves on our global appeal, welcoming buyers from around the world, spanning Canada, Mexico, the Caribbean, South America, and beyond.
Enhance Your OFFPRICE Experience with Buyer Tours
OFFPRICE offers an exciting opportunity to explore the show in depth with our Buyer Tours. Sign up for a buyer consultation to learn how to source effectively from our show. We offer both private and group tours to cater to your specific needs.
Get Acquainted with the Exhibitors
Before the show begins, we invite you to peruse our August 2023 Exhibitor List. Familiarize yourself with the diverse range of exhibitors to strategize your buying process.
Enjoy Las Vegas in Style
The show will take place at the Venetian Expo and Convention Center, a prime venue that offers more than just business opportunities. Located at 201 Sands Ave, Las Vegas, NV 89169, attendees can also enjoy the luxurious comforts offered by the Venetian Resort.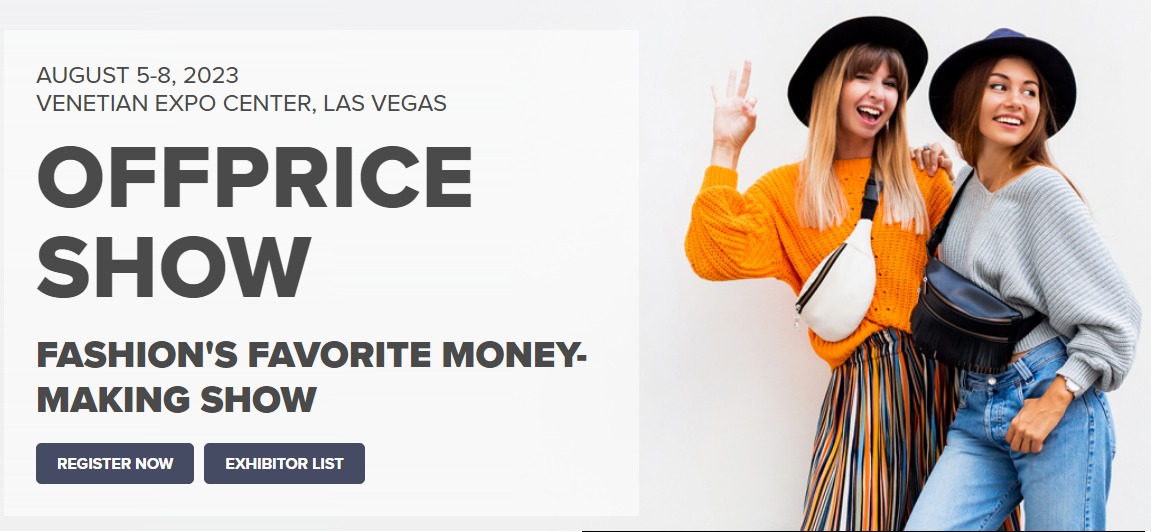 Don't Miss Out!
Register now and be a part of this iconic fashion event. At OFFPRICE, you'll discover the secrets to maximizing your buying power, enhancing your inventory, and ultimately boosting your profit margin. We can't wait to welcome you to Las Vegas for the OFFPRICE Show 2023!
See you at the Venetian Expo Center!
Dive into the World of OFFPRICE Features & Categories
At OFFPRICE, we pride ourselves on our comprehensive categories and feature sections that represent the most sought-after, rapidly growing channels in the retail industry.
WOMENS
Discover trending, affordable brand-name and private-label products for juniors, missy, and women. Our women's fashion range covers everything from wardrobe staples to the latest seasonal trends, catering to all fashion-forward customers.
MENS
Venture into our menswear section and explore an exciting assortment of graphic tees, flannels, hoodies, jeans, and more. With a keen eye for style and comfort, our vendors cater to every man's fashion needs.
KIDS
Our children's exhibitors prioritize both quality and cuteness. Choose from a delightful selection of comfortable, adorable styles that are perfect for the little ones.
CASH & CARRY
Make the most of our wholesale and Cash & Carry section that includes jewelry and other goods. With a Buy Today, Sell Tomorrow model, this area allows you to get products on your shelves faster than ever.
ACCESSORIES
Our accessory section is a treasure trove of style-enhancers, offering handbags, watches, sunglasses, scarves, and more. This widely popular section helps you complete any ensemble and cater to your customers' style needs.
FOOTWEAR
From boots and heels to sneakers, flip-flops, and swim shoes, our footwear section outfits your customers for every season. Offer your customers an array of stylish footwear options to match any occasion.
Alsett: Your Trade Show and Convention Partner
Offering Same-Day Printing and Delivery in Las Vegas
In the fast-paced world of trade shows and conventions, timing is everything. When it comes to your print needs, there's no room for delay. That's where Alsett comes in. We're delighted to offer premium same-day printing services, designed to meet your specific needs – with an added advantage of FREE LOCAL DELIVERY in Las Vegas.
We understand that each event and each business has unique needs. That's why we provide a diverse range of products, crafted to the highest standards. Our product suite includes:
Our efficient order process is designed with your convenience in mind. Simply place your order with Alsett, and let us take care of the rest. Whether you have a last-minute print requirement or have planned well ahead of time, we ensure that your products are delivered within the same day. This is particularly beneficial for exhibitors who need their materials promptly.
But our service doesn't stop at printing – we deliver to wherever you are in Las Vegas. Whether that's your hotel or directly to the trade show or convention venue, we make it happen.
Choose Alsett for same-day printing and delivery in Las Vegas, and experience the comfort of having your printing needs professionally managed. Let us partner with you in making your event stand out with superior printed materials, delivered right when you need them, where you need them.