MAGIC Las Vegas-Experience the Enthralling Fashion Extravaganza-Everything You Need to Know
Welcome to Alsett.com, your trusted hub for all things fashion and lifestyle. We are thrilled to delve into the captivating world of MAGIC Las Vegas, a vivacious fashion spectacle that is far more than a mere event – it is an embodiment of a vibrant community where brands, retailers, and fashion enthusiasts find their home.
This year, from August 7-9, Las Vegas will transform into a global fashion hub, welcoming trendsetters and industry leaders from all corners of the world to the Las Vegas Convention Center. This is where the pulse of fashion beats the strongest, where the largest assortment of trend, young contemporary, modern sportswear, footwear, and accessory brands converge.
Unveiling the MAGIC Las Vegas Brand Editorial for August 2023, we bring you a taste of the fashion extravaganza to come. As we embrace a renewed love for outdoor adventures, travel, and sports, the key collections at MAGIC Las Vegas mirror this trend. The crossroads of fun and functional fashion are heavily echoed in the silhouettes and designs ready-to-wear and accessory lines that will be gracing the runways.
For Women's Trend Edit – SS 24, inspiration takes a page from our shared sense of wanderlust, nomadic exploration, and earthly expressions. This theme, titled Free Spirit, showcases a curated selection of Young Contemporary and Contemporary Women's brands. Be prepared to marvel at a multitude of collections at the August 2023 editions of MAGIC and PROJECT Las Vegas.
MAGIC Las Vegas is not just about the style, but also about the connection and community. It's a platform that fosters collaboration, driving connectivity and delivering unforgettable experiences. From big-box to boutique, retailers and buyers, to influencers, media, and thought leaders, it's an event where everyone who lives and breathes fashion can convene and engage.
And that's why we invite you to become part of this burgeoning community, to stay connected with the pulse of the fashion industry. Get the latest scoop on events, insights, trends, and more. Follow, like, and share the excitement on Instagram with @magicfashionevents and join the conversation using the hashtag #magiclv.
Registrations are now open for the MAGIC Las Vegas event. Seize this opportunity to immerse yourself in the fashion experience of a lifetime. Book your calendar for August 7-9, 2023, and come, become a part of the magic that is MAGIC Las Vegas.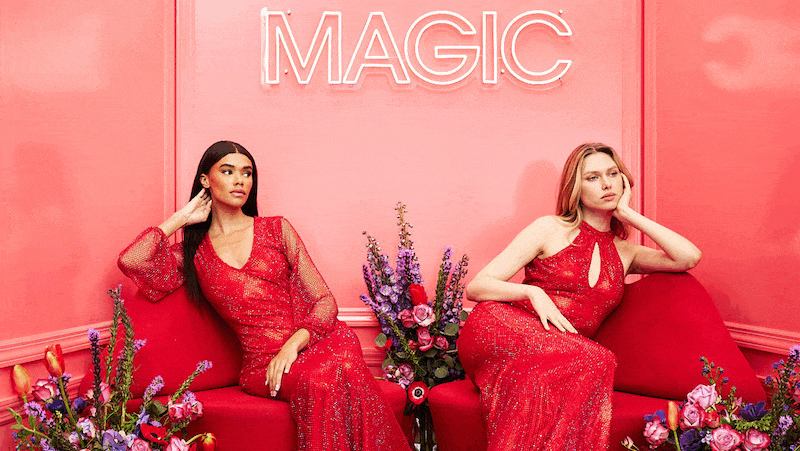 Everything You Need to Know: Unleash Your Potential at MAGIC Las Vegas
MAGIC Las Vegas is not just a fashion show – it's a universe where style and creativity fuse, where trailblazers and innovators come together to shape the future of fashion. But who is it for? And why should you attend? Here's all you need to know.
Who should attend MAGIC Las Vegas?
MAGIC Las Vegas caters to a diverse array of fashion industry stakeholders – it's a must-attend event for brands, retailers, influencers, media, and thought leaders. If you're a buyer from a big-box or boutique store, a retailer in search of the next big trend, or an influencer looking to engage with cutting-edge styles, MAGIC Las Vegas is the place for you.
Why Attend MAGIC Las Vegas?
There are plenty of reasons to attend MAGIC Las Vegas:
Discover the Latest Trends: With a wide variety of contemporary and modern sportswear, footwear, and accessories brands, it's the perfect place to uncover the latest fashion trends.
Connect with the Fashion Community: The event is a vibrant meeting place for a global audience of retail buyers and industry professionals. It's a golden opportunity to network, learn from industry thought leaders, and foster community.
Enhance Your Business: For retailers and buyers, MAGIC Las Vegas offers an unmatched selection of brands and products that can help diversify your offering and keep you ahead of the competition.
What to Expect:
High-Energy Fashion Experience: Prepare to be dazzled by a dynamic and vibrant fashion show that exhibits a vast selection of trend, young contemporary, modern sportswear, footwear, and accessory brands.
Unique Insights: With a myriad of influencers, media personnel, and industry thought leaders, you'll have the chance to gain exclusive insights into the fashion industry's future.
Community Building: By attending, you'll become part of a deeply rooted community where you can connect with like-minded professionals and create long-lasting relationships.
Registration Requirements:
In order to maintain the high standards of our event, attendees need to be qualified with relevant identification. These requirements are subject to the discretion of Show Management and may include one or more of the following:
Active Website
Tax Registration
Recent Invoices: From the last 6 months that are from 3 different vendors for finished goods, apparel, footwear, accessories. Please note, purchase orders and handwritten invoices are not acceptable.
Photo ID
Business Card: Listing your business's address & job title
Account List: Proof of a buying office
Credit Reference Sheet: Showing companies you purchase from
Letter of Intent: From a broker or lawyer on official letterhead stating the type of business and anticipated opening date.
So, why wait? Register today for the MAGIC Las Vegas event taking place from August 7-9, 2023, and take a step towards shaping the future of your business and the fashion industry as a whole. See you at the Las Vegas Convention Center!
Alsett: Your Trade Show and Convention Partner
Offering Same-Day Printing and Delivery in Las Vegas
In the fast-paced world of trade shows and conventions, timing is everything. When it comes to your print needs, there's no room for delay. That's where Alsett comes in. We're delighted to offer premium same-day printing services, designed to meet your specific needs – with an added advantage of FREE LOCAL DELIVERY in Las Vegas.
We understand that each event and each business has unique needs. That's why we provide a diverse range of products, crafted to the highest standards. Our product suite includes:
Our efficient order process is designed with your convenience in mind. Simply place your order with Alsett, and let us take care of the rest. Whether you have a last-minute print requirement or have planned well ahead of time, we ensure that your products are delivered within the same day. This is particularly beneficial for exhibitors who need their materials promptly.
But our service doesn't stop at printing – we deliver to wherever you are in Las Vegas. Whether that's your hotel or directly to the trade show or convention venue, we make it happen.
Choose Alsett for same-day printing and delivery in Las Vegas, and experience the comfort of having your printing needs professionally managed. Let us partner with you in making your event stand out with superior printed materials, delivered right when you need them, where you need them.